Sheet Metal Portable Cabins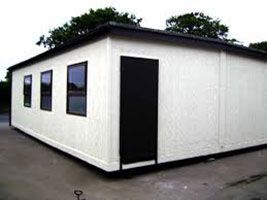 | | |
| --- | --- |
| Business Type | Manufacturer, Exporter, Supplier |
We are engaged in offering
Prefabricated Sheet Metal Portable Cabins
with steel structures and mica sheet paneling inside with insulation.
The Tradition Type
The Frame

120mm x 64mm ``I`` Steel Beam perimeter base frame
120mm x 64mm ``I`` Steel Beam member

The Base Structure Support

120mm x 64mm ``I`` Steel Beam 300mm High Legs with120mm x 55mm ``U`` Steel Channel cut 200mm Base Plate

Flooring:

Frame 50mm x 100mm s4s Kiln Dried wood, joist 406mm O.C
Floor joist fixed to steel base frame with lag bolt & common nails with steel cleats
Floor Deck: 4` x 8` x 18`mm thick commercial plywood
Cement Board 18 mm Floor (Optional)
Floor finishing 300x 300mm Vinyl Tiles 02mm thickness

Walls

External wall 50mm x 100mm s4s kiln dried wood frame vertical studding 406mm O.C nailed to top & bottom wood runner
50mm insulation (Fiberglass with aluminum sheet vapor barrier) or 50mm of polystyrene sheets
0.4 Pre painted rip metal external sheeting & 4mm thick décor plywood inside
Internal 50mm x 100mm s4s kiln dried wood frame vertical studding 406mm both sides cover with 4mm thick décor plywood
Toilet bath room interior wall 3/4`` laminated whit plywood

Roof

40x80x1.5mm hollow steel tubes fabricated truss & steel tubes purling
0.4mm pre painted metal roof sheeting
50mm thick fiberglass insulation one side with aluminum sheets vapor barrier

Ceiling

50mm x 50mm wood ceiling frame spaced 610mm O.C. noggins space 1220mm O.C
0.4mm thick polyester whit plywood ceiling panel
Ceiling height 2380 AFFL

Doors

External doors made from hollow core wood frame paneled with 4mm thick plywood complete with 3Nos hinges ``SOFAB`` lock set with keys, Exit doors provided with exit panic push bar, The double door size 1600mm x 2100mm double door, 900mm x 2100mm single

Windows

Aluminum white coated frame, 2 point horizontal sliding with 6mm thick clear glass
Standard size 1000mm x 1000mm, 800mm x 800mm
Fly screen outside provided

A/C Provisions

The prefabricated Portable provided with provision opening for window type A/C 700mm x 500mm complete with angle bracket outside to hold the A/C unit

Electrical

The installation will be complete as per NEC standard local code
The panel board for each portable will be the breakers & branches, Amperes 30A for the A/C circuit, 20A power sockets, 10-15 for the lighting
One cable will be in pipe of PVC conduit concealed to the wall
All wiring THHN/THWN copper conductors, insulated type runs to conduit
Voltage 110V/220V, 3phases, 50/60Hz
Lighting tubes 40W Flour cent tubes with diffuser
Power socket, 15A, 125A 250V duplex outlets 3pin Tandem Slot NEMA 6R20 UL listed
Dedicated power socket for A/C 20A 250V 3pin Tandem Slot NEMA 6R20 UL listed
Door lighting fixtures 60W, 110V incandescent bulb with bulk head fitting
Wet areas socket outlets shall be GFCI type

Plumping

The prefabricated portables installed with plumping installation as per uniform plumping code
Cold water supply pipe PVC schedule 40
Hot water sully piping CPVC schedule 40
Water heater installed to support the hot water system (50Ltr)
Toilet fixture shown on the drawing shall be provided
Waste fittings, P-Trap & Drop pipe 1-1/2`` PVC schedule 40 for site connection
Complete waste system shall be installed on site by others
Read More...
Looking for "
Sheet Metal Portable Cabins

" ?